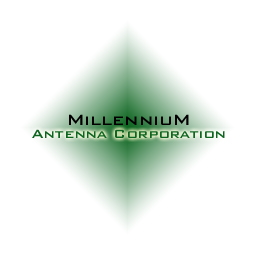 Welcome to
Millennium Antenna Corporation.
Millennium Antenna Corp. copyright 2003

Millennium Antenna has proven itself in its 21 years of operation to be committed to customer satisfaction, rapid engineering design and reliable product in the field. While we are proud of the wide selection of specialized antennas and arrays that we offer, they are not our sole or end-product. As you will discover on this site, we have also evolved our own custom electronics for communications, navigation, and detection systems. Our product lines help us maintain a keen sense of what makes a product cost effective by maintaining our experience in component and materials selection, and design for reliability and ease of manufacturing. We have a complete quality assurance program that we have maintained and employed since our founding
At Millennium Antenna Corporation no job is too big or too small. We have the resources and experience necessary to evolve your product from concept to production in an efficient and well managed manner. We are fortunate to have established our corporation in the Mohawk Valley of Upstate New York where many high-tech small businesses have thrived on cooperative teaming efforts to handle a broad range of technical challenges.
Whether you need an engineering design team to evolve a product design that you want to manufacture, or a design and manufacturing partner that you can count on to deliver repeatable and reliable performance, please consider us as your solution.
Christofer J. Wilder, Founder